The NoHatDigital group has been kicking butt and taking names for several years now. As far as niche/authority sites go, there are not many other people that have more insight or more experience. Today I am pleased to be featuring Greg Nunan from NoHatDigital.
In my last post, I talked about how niche sites have changed. For todays post, Greg elaborates on this by sharing his tests and experiences with what's working and what's not…
Take it away Greg…
——————–
If you have been following any reputable SEO blogs lately you will have noticed quite a bit of chat about how long it is taking for new sites to rank, usually a good 4-6 months until you can expect to be on page 1 for any decent short tail keywords.
That's old news, however what isn't so commonly shared right now is how to work around (or work with) the Google Sandbox in order to achieve the fastest possible rankings, drive traffic and ultimately make more money sooner, despite the existence of the sandbox.
We (NoHatDigital, formerly NoHatSEO) have been testing a ton of ways to rank content quicker over the past couple months and are in a position to shed some light on Google Sandbox workarounds that work.
Also, we have quite a few potential workarounds, meaning things that can work but that do not work all the time, or things that we think will work, but have not yet had the chance to come to a definitive conclusion. Let's take a look!
What we know definitely works
Adding new pages of content to existing sites works. Josh alluded to it in a recent post, and we've been featuring an on-going case study on the subject for the past 5 weeks also.
What we're finding across all the sites we are adding content to is that we are hitting the serps almost immediately and picking up traffic FAR sooner (within days of putting the content up) than we would have from a fresh domain.
To illustrate the point, immediately below is a screenshot for content that was added to one of our sites within the last 5 weeks. None of these pages have been link-built yet, so it's purely rankings based off the authority of the site (currently a DA20 domain).
As you can see, there are a bunch of keywords that are ranking between position 8 to 63. Each of these keywords are at least 90LMS and up as high as 4400LMS.
It's not all the keywords on the site, but certainly enough to demonstrate that the tactic of adding new pages to existing sites will deliver rankings. This is near-on impossible for a fresh domain.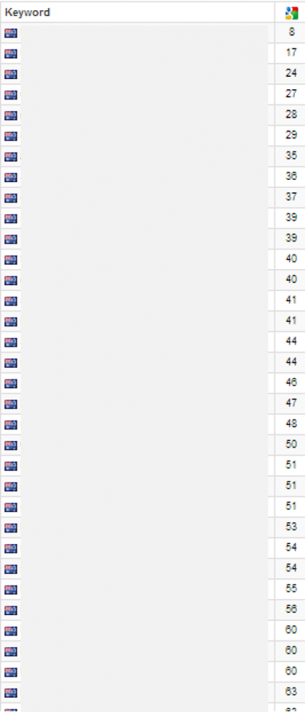 Below is a look at the last 7 days of page views and Adsense earnings from just 10 pages that were added to the same site 4-5 weeks ago. This is a site with very high RPMs of around $500 and so the earnings vs page views would certainly not be a typical scenario.
However, had we put the same pages on a fresh domain instead of on the current site, that's equivalent to approximately $700 per month of revenue we'd not be making right now. The weekly earnings are increasing rapidly also as rankings climb up so the ROI for the new content is significant. This is something you can implement immediately to boost traffic and earnings.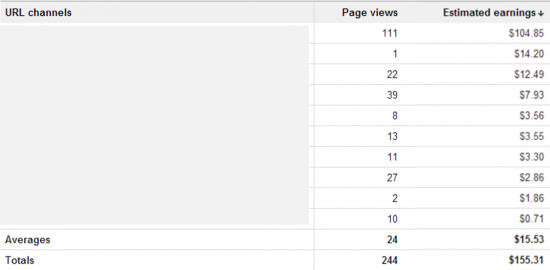 Adding new content to existing pages on aged sites works. There's nothing stopping you from adding new content to existing pages, right? We had some pages on money sites that were a little thin on content, so we added extra paragraphs of related content to beef them up a little and this has also helped to drive an increase in traffic.
Google is definitely favoring large, resourceful pages right now so anything you can do to turn a mediocre page in to a super-helpful page is going to be beneficial. Just on that…
Creating big, resourceful pages works. Again, Google loves resourceful pages. Whilst there appears to be a sandbox period for the bulk of new content on fresh domains, there is short-term traffic for the taking through long-tail keywords.
Targeting as many short tail keywords as possible on as single page will inevitably mean there are more low-competition long-tail keywords on your page. We do not have a definitive figure at this stage, but the Google sandbox appears to impact far less on keywords that are under 500LMS as a ballpark figure.
What we know can work
Launching new sites on expired domains. This one makes the "can work" category because it does not always deliver results. When it does, you will usually find that some of your main keywords appear in the top 150 results in Google very soon after launch (within a few days).
We are currently testing around 30 new sites launched on expired domains and what we believe increases the odds of ranking quicker is launching a new site on a recently dropped domain that still has pages indexed in Google.
Also, be sure that the former content of the site matches the new content on the site as relevancy does seem to impact.
Something from left field… An odd little theory that is hard to test, but that has seemingly worked is launching a site on an expired domain that has the same link profile as an existing SEO site that is ranking and was also launched on an expired domain…
Let me try my best to explain using a hypothetical KW set here!
In researching the keyword "Camping Tent Reviews", I came across an SEO site (let's call it "MisterCampGuide.com") that was ranking in position 1 for that keyword.
I took a look at the backlink profile of MisterCampGuide.com and it soon became clear it was once an expired domain that an SEO had now picked up and turned into a money site targeting the keyword "camping tent reviews".
I picked out two of older domains that were linking to MisterCampGuide.com and were related to the camping niche and ran them through xenu to see if they were linking out to other available expired domains. Sure enough, there were a handful of available expired domains available.
I registered the best domain available, which was only a DA13 but at least that was start. Now I had an expired domain to build a money site on that was not only being linked to from highly relevant sites, but those same sites linking to it were also linking to the current number 1 site for the main keyword I wanted to target
Could this impact positively on the rankings of the site we launched? Who knows really because it is so hard to find enough instances of this, however it makes sense to mimic the back-link profile of sites that are already ranking and this may just be a tactic that works for the very uncommon instances you're able to achieve it.
Comparing Expired Domains vs Fresh Domains: Months 1 through 4
Below is an example of two sites that were launched within a couple weeks of each other. The first was on an expired domain (the domain I picked up in the scenario outlined above), the second on a fresh domain.


Obviously, you will find variances from keyword to keyword and site to site, but we have multiple instances of sites being launched on expired domains and ranking within one week (even if it is page 12 in Google) whereas not a single fresh domain ranks for any keywords of note within the first 30 days.
What we think can work
Buying an aged site could work. Pages 4+ in Google are littered with SEO sites that have been abandoned. Although we have not tested this, it is entirely possible, probably highly likely in fact, that buying an existing site and then building it out can lead to faster rankings.
The only possible reasons why this could not work appear to be 1) if the site has a penalty you are unaware of (doing your due diligence is the workaround here) or 2) if for some reason a DNS change as part of the domain transfer somehow triggered something in Google that put the site into a temporary sandbox. Unlikely in my opinion, however it is possible and given that it's un-tested by us, this tactic goes in the "think can work" category.
How would you do this? You only need to find a site that is related to your main target keywords, not one that is currently targeting it. If you wanted to build a site targeting medical assistant keywords, any generic domain related to health careers, or even careers in general, would likely do the trick just nicely.
Key in a few keywords and sift through pages 4+ to find any obvious seo sites and start reaching out to gauge their interest on selling for a small fee. If they have abandoned their site, a few hundred bucks for a site they are not going to work on is a good deal for them, and a good deal for you.
Buying from Flippa is another option to consider (if you're willing to trawl through the junk!)
Working with Google
It's in the DNA of an SEO to cast Google as the villain, however Google sets the rules and while you are working out ways to get around them (using the strategies above), you can also make the best of a bad situation by working with them.
If you have some new keywords in mind to target on a fresh site, a simple tactic for working with Google is to accept the fact that sites won't budge for 3+ months in most instances and then build that into your strategy.
What you want to do is have a continual flow of aged sites coming out of the 3-4 month sandbox at any given time. We launch sites as early as possible with a single pillar article on them, let them sit (perhaps throw a handful of links at them) and then commence building them out and more aggressively working on them once they have aged a little bit and are ready to move up the serps.
By launching just a handful of sites like this each month starting from now, when you fast forward 3-4 months you're going to have a steady flow of aged sites that are exiting the sandbox for you to focus your efforts on. In the meantime, work on the strategies above.
Wrapping up
Put some of these tactics to the test for yourself is the best way to keep "ahead of the game" because whilst researching and reading through articles like this one is fine, there is simply no substitute for doing it yourself.
Balance your short-term need for rankings and income by using the tactics covered above and balance that against building new sites to address medium to long-term needs. New sites and continually adding content to existing sites is the life-blood of most SEO income.
It's smart business to never leave yourself in a position where your current sites are not performing well, but you have no new sites coming through that are primed for results. Be consistent, make sure that you're aware of new developments in SEO and keep pace with the ever-changing Google landscape.
—–
If you'd like to check out more of whats going on with the guys @ No Hat Digital, visit their website at NoHatDigital.com